Are you looking for the best window option for your basement? Our basement hopper window is the perfect solution for any temperature-regulated home! We've created the hopper window specifically for finished basements.
Compared to other window types, the easy-to-use hopper provides a ventilation option, that works perfectly with outside window wells or other small space areas. They also provide a great aesthetic and add light to small spaces.
What is a basement hopper window?
What makes a hopper window the best solution for your basement? The window is manufactured to open inward from the top, on a horizontal axis. This opening does not interfere with the window well and allows you to easily ventilate the basement. The hopper window can also be made to fit the short height requirement that basements so often require. When the window is closed and locked, you won't have to worry about any water because of the tight seal.
The basement hopper is easy-to-use, customizable, and is offered at an affordable price point so you don't have to spend a fortune to keep your basement well insulated.
If you need to replace existing windows or add new windows to your finished basement, the hopper window is definitely one to consider. You'll love the convenience they provide.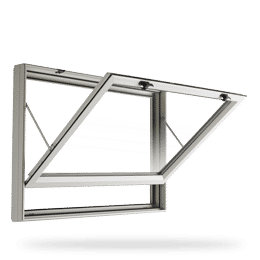 Basement Hopper Features
Multi-chambered 3 1/4 inch vinyl frames
Fusion-welded sashes and mainframes
Tilts in for ventilation and cleaning
Sash can also be removed for full ventilation or pass-through
Heavy-duty, stainless steel, free-floating concealed pivot arm
Pull handle lock for security and positive seal
Extruded aluminum screen rail
Full fiberglass screen included
Double insulated glass
Meets Energy Star requirements with select glass packages
Warm edge spacer system
Call Us Today For A Free Estimate